PROMETHEUS project presented in the 4th HEI Initiative Co-creation workshop
PROMETHEUS team attended the 4th Co-Creation Workshop for Cohort 1 & 2 projects on 10 -11 May, 2023.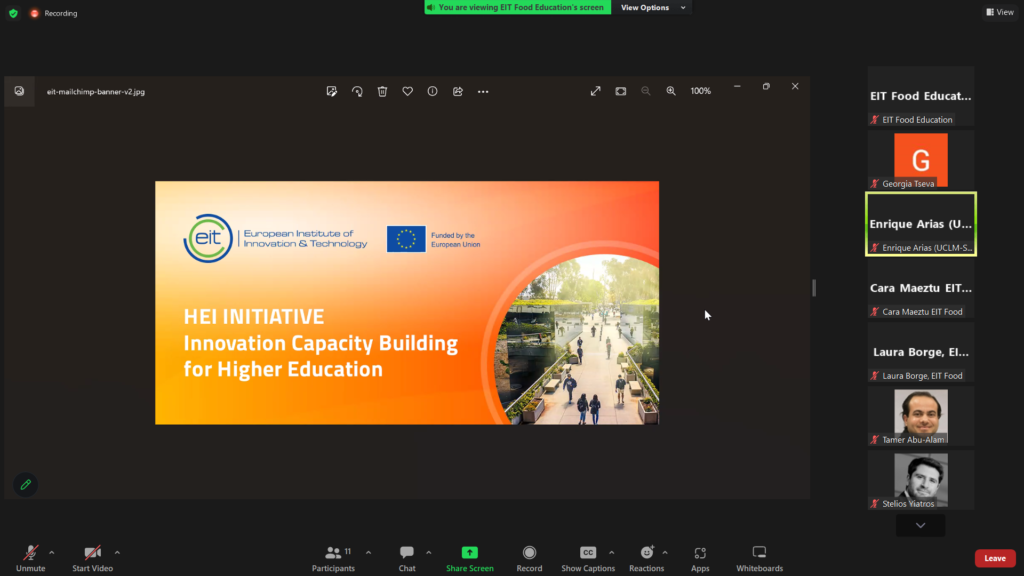 Co-creation Workshop Aims
The overall purpose of the 2 days online workshop was to create a space where the EIT HEI Initiative projects could learn from each other and discuss ideas to support each other in the achievements of the KPIs, objectives and domains where the least change has been achieved. Key point for the organisation of the workshop has been the fact that, based on Phase 1 Review, Domain 5 (Knowledge Sharing) and Domain 3 (Contributing to developing innovations and businesses) saw the least significant change. HEI cohort 1 projects were invited to present lessons learned and best practices during their implementation as a way for Cohort 2 projects to explore new ideas and practices.
To achieve this aim, the Co-Creation Workshop was divided into four sessions. Each session was structured around a blended format including:
Introduction with experts identified and selected by the KICs for their distinctive insights on the domains that have seen the least change (domain 3 and domain 5);
Introduction with HEI cohort 1 projects for their lessons learned and recommendations on the domains that have seen the least change (domain 3 and domain 5) ;
Breakout room discussions with participants to share experiences and best practices across any of the four domains;
Plenary discussions to share the main findings from the breakout room discussions or hear more inspirations.
Co-creation Workshop Day 1

On May 10, the Workshop began with Welcome and Introduction by Laura Borge, Education Programme Manager at EIT Food.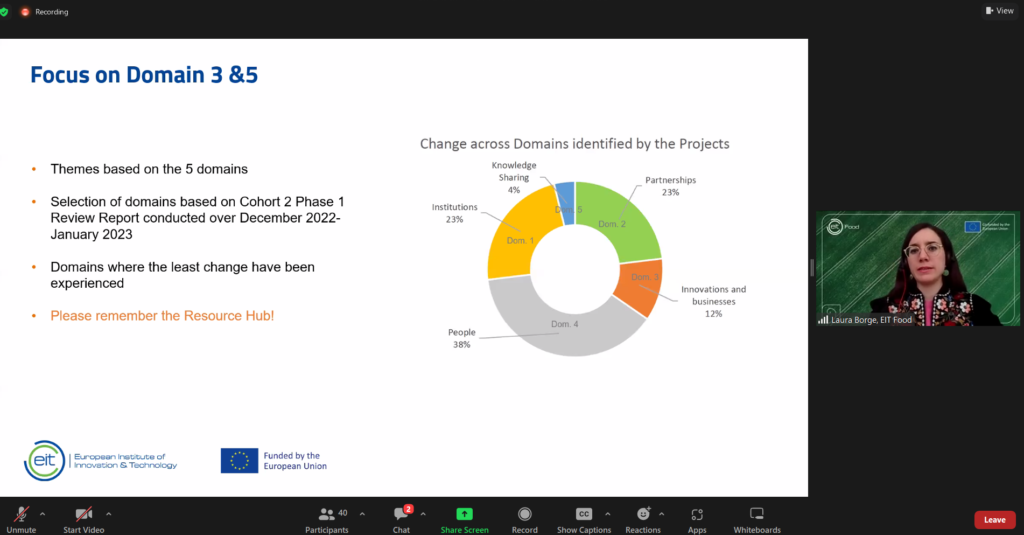 Two keynote presentations followed and in particular:
EIT HEI Initiative Portfolio: Exploring and finding synergies by Pamela Ragazzi, Learning Programs Orchestrator at EIT Climate-KIC
Domain 3: Simon Brown, CEO at P2T Consulting
Afterwards, two Cohort 1 projects presented key lessons learnt:
Domain 3: Tandem+ and EUACCEL, EIT Urban Mobility by Bárbara Gabriel, University of Aveiro and Pavlina Vujovic, Institute of HM University of Applied Sciences
Domain 5: CHIC, EIT Climate by Ivana Vukam Head of Technology Transfer Office at the University of Split
Maarten van der Kamp, EIT Food Education Director summarised Workshop Day 1 key conclusions in a Plenary Session while participants renewed their date for Day 2 of the Workshop.
Co-creation Workshop Day 2
Day 2 of the Co-creation Workshop started with Welcome and Introduction by Laura Borge, Education Programme Manager at EIT Food.
PROMETHEUS presented in the Workshop

Next, Georgia Tseva, National & EU Projects Coordinator at Crowdpolicy and Dissemination Manager for the PROMETHEUS project made an overall presentation of the project focusing on good practices in the implementation of the project and in Domains 3 & 5. Her presentation explicitly highlighted that PROMETHEUS project is a "system-based project", in a sense of creating permanent – ever evolving digital platforms and mechanisms to support Innovation and Entrepreneurship within a wide ecosystem. The project initiatives comprise academia, industry and the society in a guided / curated fruitful interaction to foster innovation and target it on declared business and/ or societal needs for young talent to work on.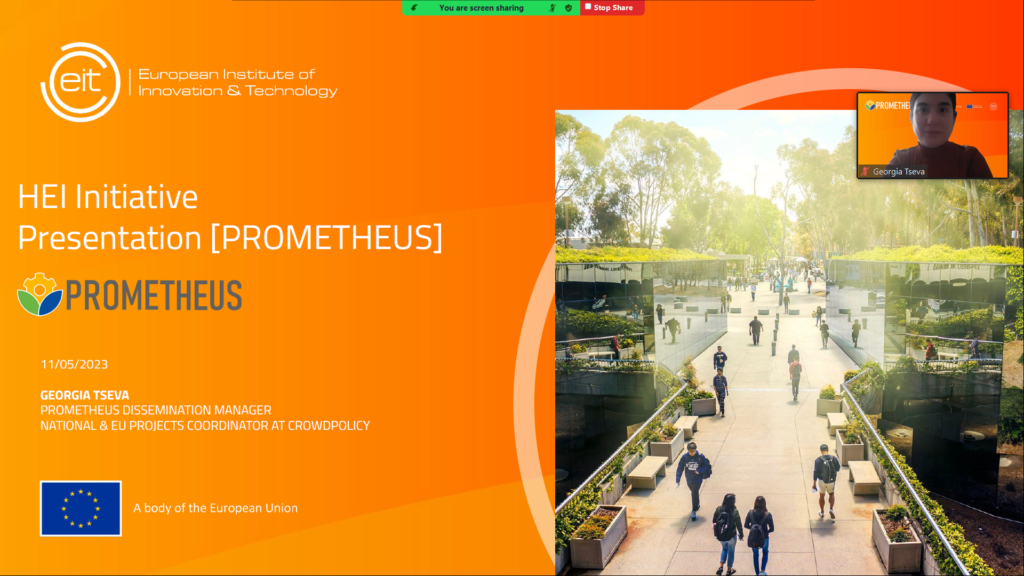 Subsequently, Georgia Tseva presented four key support structures for entrepreneurship and business development:
During this session, Yeray Pescador, Headlines, EIT Food project coordinator at Universidad de Burgos highlighted relevant key challenges and aspects within their project.
Breakout Sessions
The presentations were followed by breakout sessions where projects' representatives discussed in more detail good practices for the sustainability of their projects across the five different domains of the HEI initiative.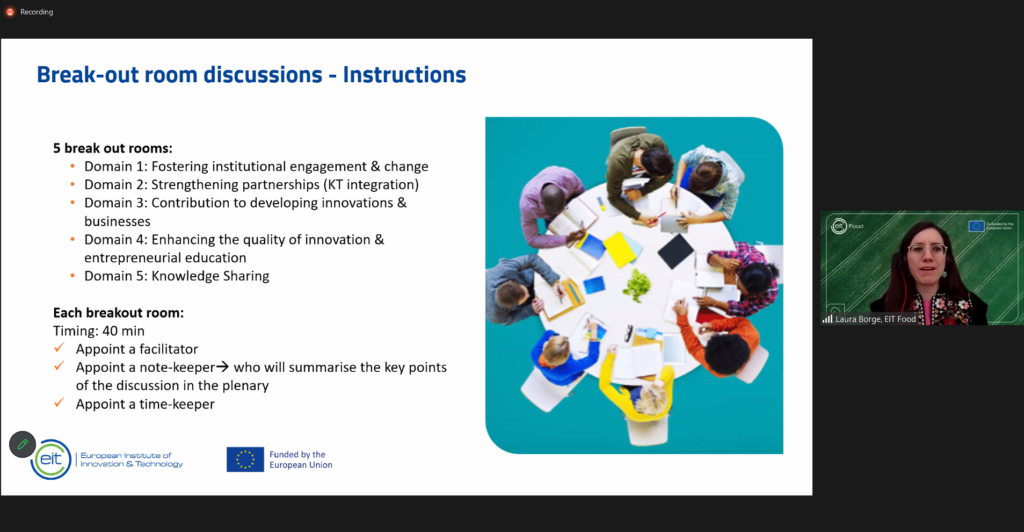 The ideas generated from the breakout sessions were further discussed in the plenary session before closure of the Workshop. There, participants highlighted the importance of new ways for engaging academic and non academic partners as well as the need for sustainable support or entrepreneurship initiatives.
Further to this, Pamela Ragazzi, Learning Programs Orchestrator at EIT Climate-KIC, introduced participants to the EIT HEI Initiative Portfolio as a way to show and enable synergies across HEI projects.
Last but not least, participants thanked the organisers for the fruitful discussions and renewed their date for the next EIT HEI Initiative Activities.