PROMETHEUS presented during the final conference of the BLUE Crowdfunding project
Goteo Foundation, the Marche Region and the BLUE CROWDFUNDING project organised the MatchMed event and the Final Conference of the project in Barcelona. During the closing session of the conference, Panagiotis Kinanlis from Crowdpolicy showed to the attendees the possible use of crowdfunding as an additional financial source for public bodies complementing the available European Structural and Investment Funds, also referring to innovation funding through the PROMETHEUS Entrepreneurship Platform and Startup Competition.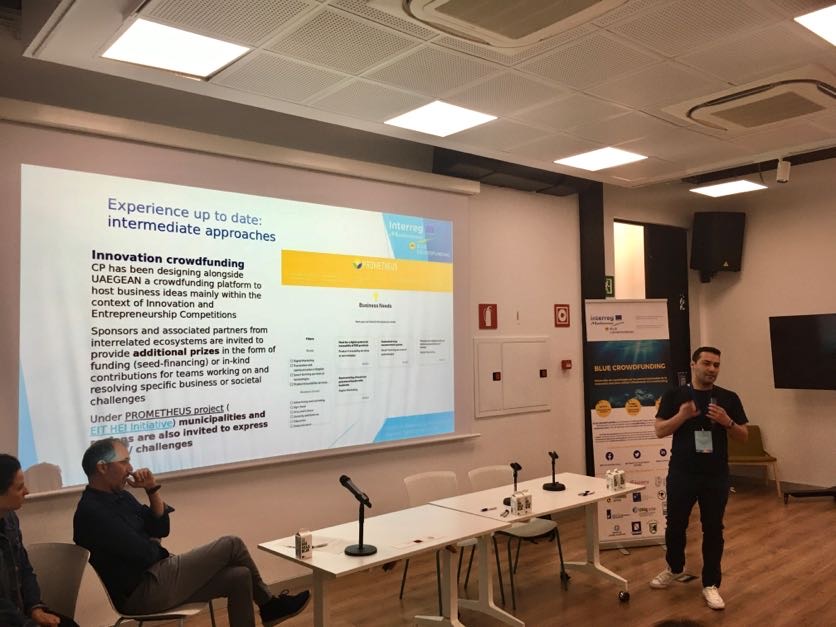 MatchMed – Multiplying the impact of public-private funds through alternative finance in the Mediterranean
The objective of this seminar was to bring together public and private actors from all over the Mediterranean with crowdfunding platform representatives and past and present campaigns promoters to discuss the challenges and opportunities of matchfunding as a tool to finance sustainable development in the Mediterranean region.
Among others, past beneficiaries of Goteo's matchfunding programmes and relevant national international organisations active in Mediterranean cooperation based in Barcelona shared their experiences. Participants enjoyed an exchanging and learning programme in the morning and a collaborative participatory workshop in the afternoon, where new possibilities of matching funds and public-private financial opportunities were explored.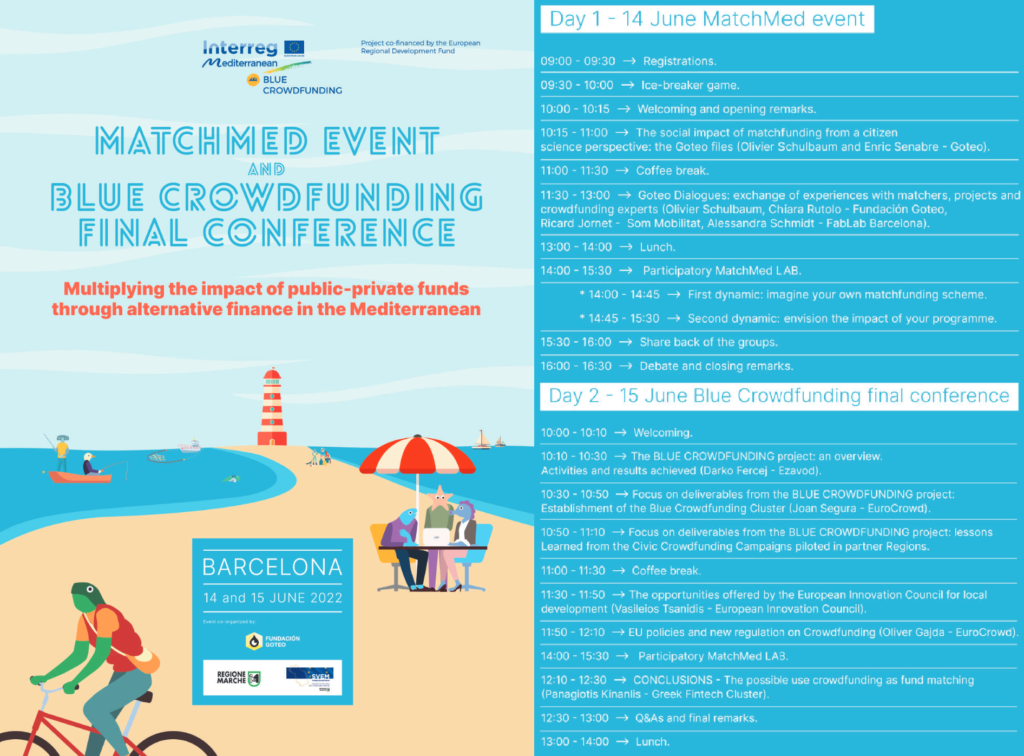 The event was followed, the day after, on June 15th, by the final conference of the Blue Crowdfunding project, coming to an end after 3 intensive years of joint work. All its partners, together with international experts and participants from the European Commission, presented the results of the initiative, aimed at triggering change from using public funds for innovation to use crowdfunding and crowdsourcing to fund, test and validate innovative blue economy products and services.

The partner organisations disclosed the final results of the project with special focus on the newly established "Blue Crowdfunding Cluster" and the recently issued "Replicability guide on civic blue crowdfunding" offered by Joan Marc Segura Amil from EUROCROWD – European Crowdfunding Network and Gaetano Di Palo from the Campania Region respectively.
Vassilis Tsanidis from the European Innovation Council and SMEs Executive Agency (EISMEA) and Oliver Gajda from EUROCROWD – European Crowdfunding Network provided insights and up-to-date information on the EU policies and new regulations on Crowdfunding as well as on the opportunities offered by the European Innovation Council for local development.