Join the PROMETHEUS Network
Ways to collaborate within the Competition and beyond
Members of the academic, research and industry community are invited to join PROMETHEUS, acting as associated partners, experts / mentors and business angels. Through the platform, you can also express business needs and / or societal challenges for startup teams to resolve.
If you want to participate as a mentor or business angel, please follow the procedure through the PROMETHEUS Entrepreneurship Acceleration Platform:
https://hei-prometheus.eu/entrepreneurship-acceleration-platform/
Mentors / Experts
The mentor is an unpaid assistant in shaping an idea. The mentors provide academic / business experience and come from the consortium partners or they are external. See other mentors here.
Business Angels
An angel is a private investor or business that supports an idea, financing it or providing an important service or resource for its implementation, at a very early stage.
Supporters / Sponsors
Supporters and sponsors are individuals or organisations inside or outside the consortium that may support an idea or competition. See other supporters / sponsors here.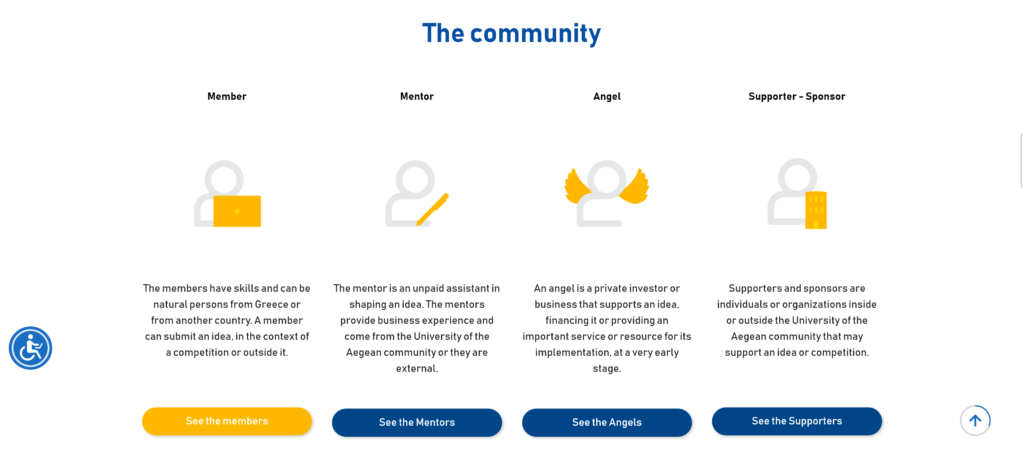 Associated Partners
In case you want to establish a wider connection to our project, you can access, download and complete the relative MoU:
https://docs.google.com/document/d/1fI51qKJ8WZPFwTvsidmOAJecnwc5L2Rg/edit
Through the MoU, associated partners will join the PROMETHEUS consortium through opportunities for cooperation, which may include:
Students internships, from an action under the European Institute of Innovation and Technology
Higher Education Innovative Universities or other relevant institutions towards companies of the PROMETHEUS Network
Mentoring, sourcing of financing and other entrepreneurship support activities from the PROMETHEUS Network towards participating startups / scaleups
Visits of academic staff among universities or relevant institutions of the PROMETHEUS network for the purpose of participating in teaching, training, research or other agreed activities
Co-supervision of PhD students among universities or relevant institutions of the PROMETHEUS network
Student mobility (with activities to be addressed by way of a separate later student exchange agreement or joint PhD agreement, as appropriate)
Common research and development activities
Exchange of documentation, research materials, publications or other information
Other activities within the scope of promoting innovation, entrepreneurship and sustainable development, of mutual benefit to the Parties
By signing this MoU, the Associated Partner obtains the following rights, based on the applicable PROMETHEUS policy:
Becomes a member of the PROMETHEUS Network, with the role of Associated Partner.
May use the PROMETHEUS / Associated Partner logo in activities and publications relevant to this MoU, stating their relation as Associated Partner where necessary.
Gets access to the PROMETHEUS platforms and tools that are or will become available for Associated Partners. Such platforms and tools may include:

The PROMETHEUS Entrepreneurship Acceleration Platform
The PROMETHEUS Intelligent Assistant
The PROMETHEUS Training Platform
The PROMETHEUS Knowledge Base
The PROMETHEUS Network Database

Gets access to PROMETHEUS innovation and entrepreneurship support methodologies that are or will become available for Associated Partners. Such methodologies may include:

The PROMETHEUS Entrepreneurial Teaching Curricula
The PROMETHEUS Entrepreneurial University Monitoring and Evaluation Framework
The PROMETHEUS Challenge-Based Methods for Entrepreneurship Education

Gets access to PROMETHEUS project deliverables.
Gets promotional access to PROMETHEUS events and activities that come at a cost for participants. Such events may include:

The PROMETHEUS Digital Innovation and Entrepreneurship International Summer School
The PROMETHEUS Vocational Education Programmes
The PROMETHEUS Master Programmes

Will be considered for participation in joint proposals for funded projects that the PROMETHEUS Network will develop in the future.
Their Associated Partner status will be published and disseminated through the PROMETHEUS websites, social media and relevant publications.
Send us the signed MoU in pdf format through email at: zoi [at] aegean.gr