AEGEAN Startups 2021-2022 – Final
AEGEAN Startups, the Panhellenic Innovative Entrepreneurship Competition for the promotion of the best business plans in thematic categories related to the priority areas of the Aegean, such as tourism, culture, environment, rural development and information technology has been completed.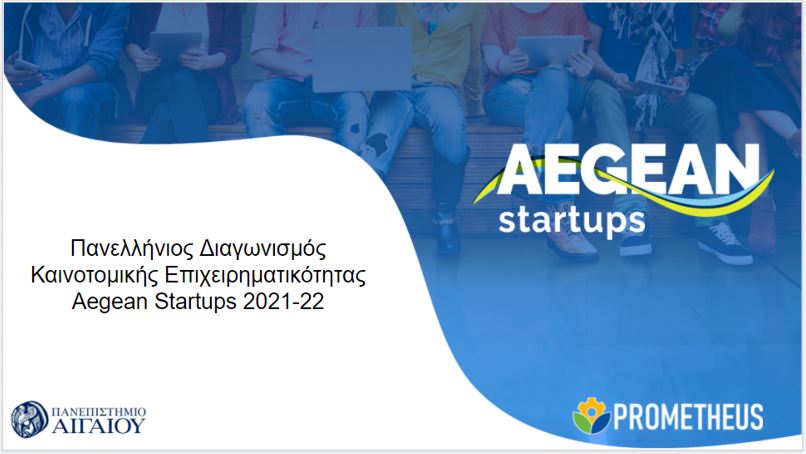 More than 50 proposals were submitted in the competition, formulated into business plans with the cooperation of mentors from the University of the Aegean and the market. The 10 best business plans, as emerged from previous stages of the competition, were presented in the final phase that took place on March 19, 2022, proving that the Aegean innovates on tourism, culture, environment and IT. The proposals that stood out are the following:
1st Place in Category A – Students / Graduates of the University of the Aegean: "ROTA – Personalized nautical itineraries" developed by the students of the MSc "Digital Innovation and New Entrepreneurship", Ch. Batzelis, I. Melas, M.P. Zacharaki and N. Fotis-Feratis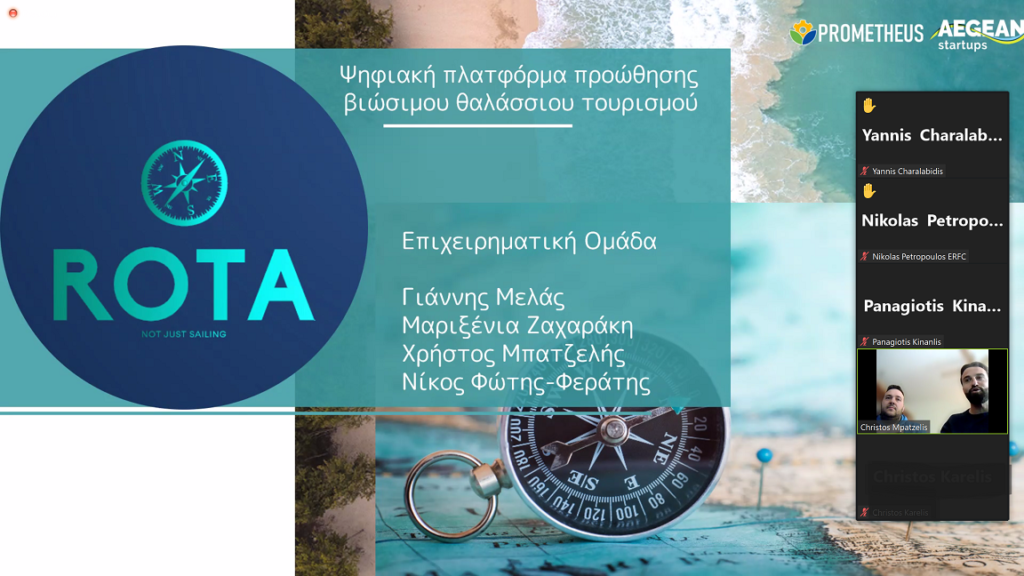 1st Place in Category B – Research Teams of the University of the Aegean: "SciDrone – Waste Mapping in Coastal Zones", developed by a research team of the Department of Oceanography and Marine Life Sciences at University of the Aegean: A. Moustakas, K. Topouzelis and A. Papakonstantinou.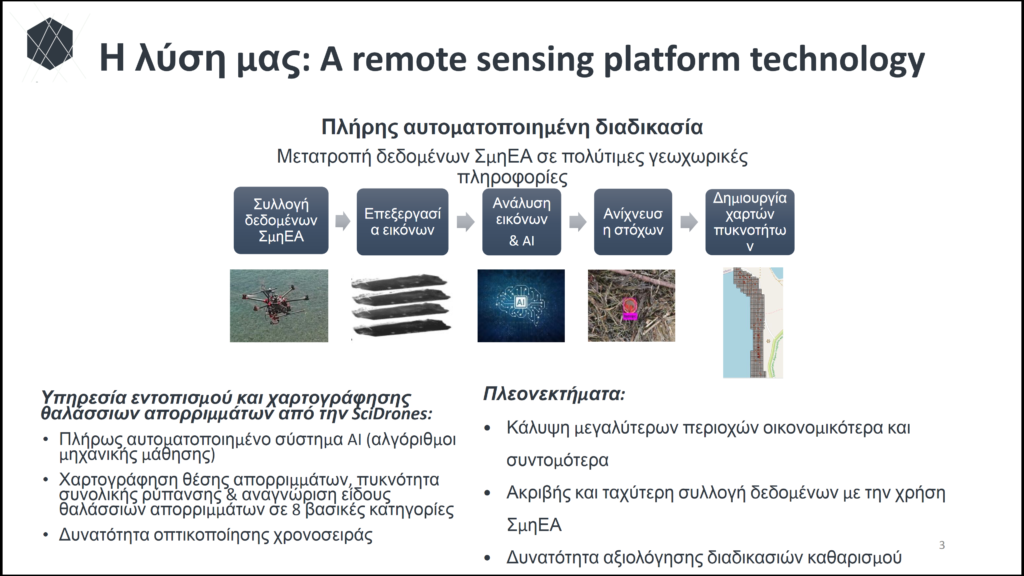 The above mentioned proposals shared the "Ioannis Tsamourgelis" Entrepreneurship Award, with a total prize of 5000 euros, offered by the Company for the Utilization and Asset Management of the University of the Aegean.
Other notable proposals received a special distinction for their innovative approach:
ECOCup – A reward application that operates as an ecological loyalty system between beverage consumers & beverage companies, developed by A. Koukoulis, A. Katsaouni, I. Brant Ioannidis and G. Antonopoulos.
Cultural Fox Tales – A multimedia application for archaeological sites, developed by N. Vamvakidis and E. Karagiorgi.
The other six teams reaching the final were: MyMedGuard, The Perfect Farm, RideAway, GEIA, TouteRout and RePlace.
Giannis Charalambidis, professor at the Department of Information and Communication Systems Engineering in Samos and head of Aegean Startups said: "The creativity of our students in the Aegean islands, but also young people from all over Greece, shows us the way to substantial development, which will come through the establishment of innovative businesses with a social footprint. We are very pleased that Aegean Startups are helping to accelerate the ideas of our students and researchers, and are now continuing to work with universities across Europe."
During the competition, all participating teams were introduced to PROMETHEUS scope, objectives and digital tools, with all those thematically falling under the project's thematic context prompted to present their ideas (in english) to a much wider – european audience.
Feel free to further explore the Entrepreneurship Acceleration Platforms created and populated under:
Relevant posts (GR)
https://www.aegean.gr/announcement/aegean-startups-2021-2022
https://www.ertnews.gr/perifereiakoi-stathmoi/voreio_aigaio/to-aigaio-kainotomei-se-toyrismo-politismo-perivallon-kai-pliroforiki/