Visa Innovation Program Webinar Series – Into the Challenges
How will the future cities look like? Can we leverage the technology and form partnerships that contribute to an eco-friendly economy, drive inclusiveness, reduce inequality and create a positive impact for the communities and the environment?
Crowdpolicy organises the Online Webinar ''Smart and Sustainable cities – building an ecosystem for a better future through innovation'' in the context of the Visa Innovation Program — the growth platform for fintech stars.

Register Now: https://www.crowdpolicy.com/visa-innovation-program-smartcities/ 
The Webinar will be held online on 24th February 2022 at 5 p.m. EET (Eastern European Time).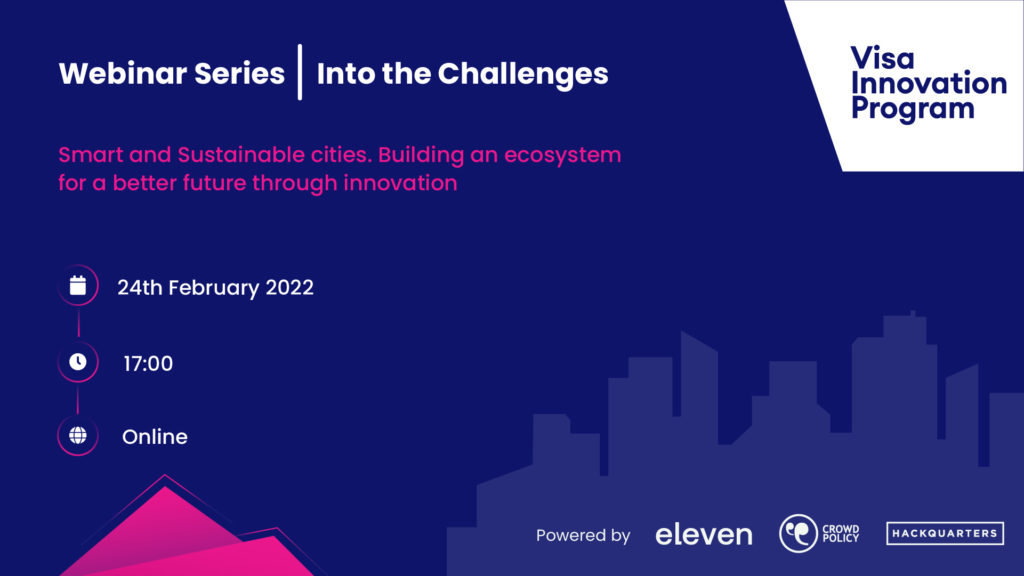 Check out the Agenda
17:00–17:05 | Opening
17:05–17:20 | Keynote — focus on the importance of the smart and sustainable future for Visa — Katherine Brown, Vice President at Visa and Passionate Advocate for Sustainable Finance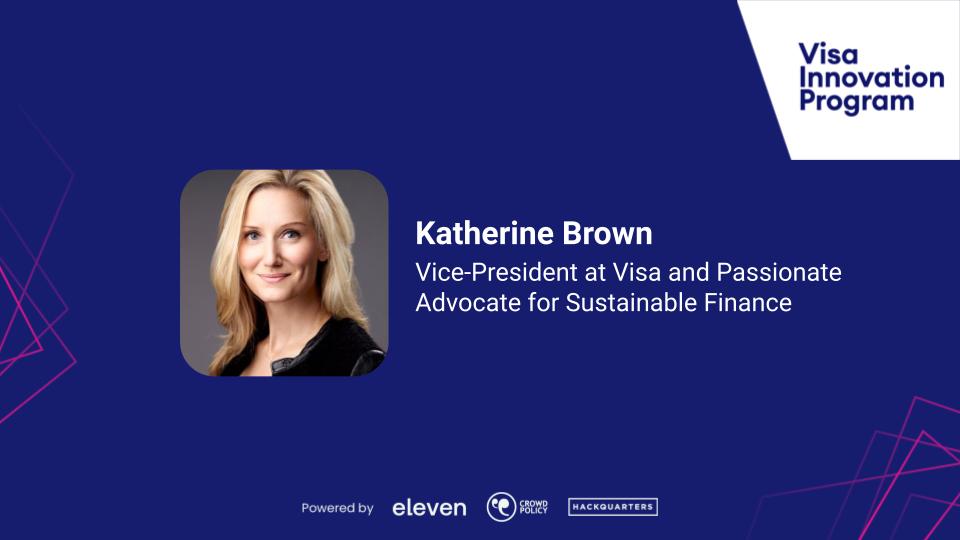 17:20–18:00 | Discussion panel with focus on best practices
Vagelis Vlachos, Chief Executive Officer at Athens Development and Destination, Athens Municipality (TBC), Prof. Silviya ilieva, Director of Gate Institute, Bulgaria , George Karamanolis, Co-Founder, CTO/CIO, Crowdpolicy
Moderator: Nancy Alonisioti, A.Prof. Nancy Alonistioti, Dept. Informatics and Telecommunications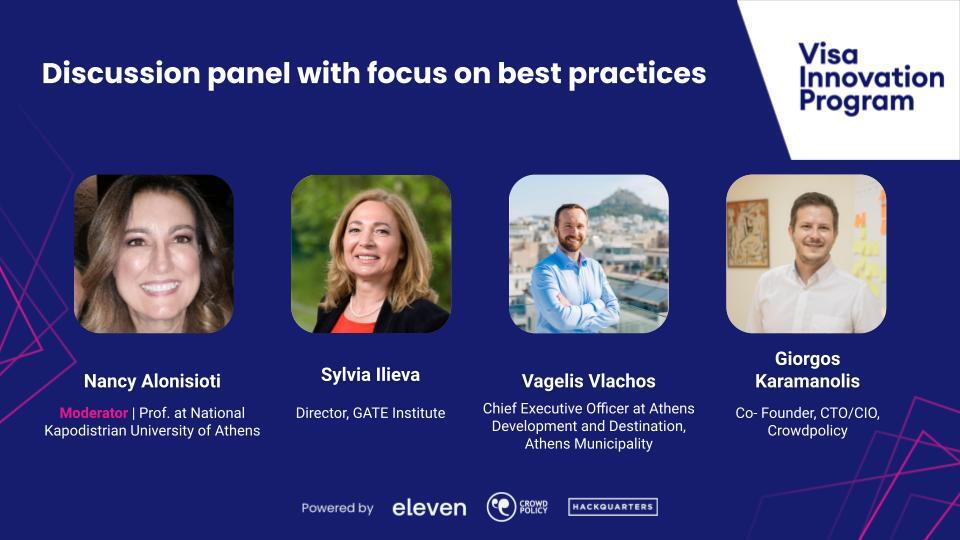 18:00–18:30 | The view of startups
Showcasing: John Katsiotis, CEO – Co-founder Parkadoro, Startup of the Visa Innovation Program cohort 3, Elena Avantagelou, Giving Streets — Visa Innovation Program, Cohort 2, Kutay Peker, Business Development Director of Payment Services, Utarit — SoliClub, Visa Innovation Program Cohort 3.
Moderator: Theo Kotzastavros, Innovation Officer, Crowdpolicy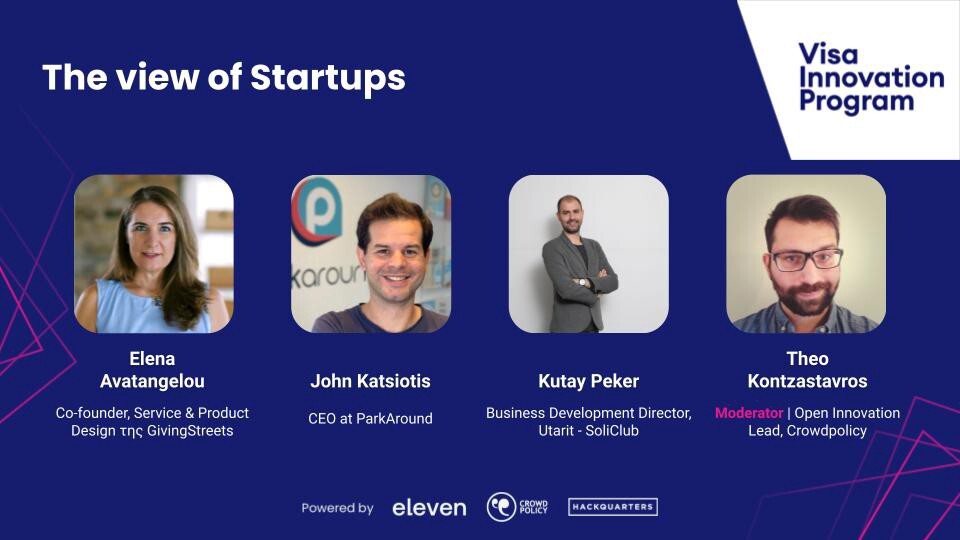 18:30-19:00 | Q&A — Discussion
 The whole event will be moderated by Mrs. Maria Akrivou, reporter in Fortune Greece.

The Challenge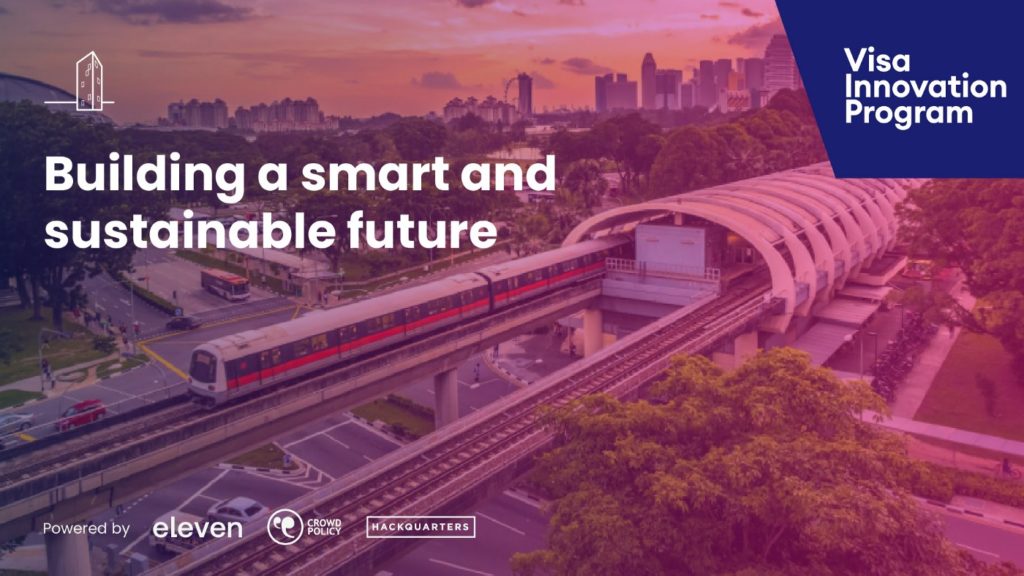 This year, Visa Innovation Program has a special challenge, focused on Smart and Sustainable Future and will be looking for the brightest and boldest startup ideas that could help the corporates, governments and people live happier and healthier lives through innovation.
If you are interested in Digital Transformation, Sustainability and Smart Cities, book your spot now and join them together with hundreds of startups, bank executives, researchers and experts from the public and private sector – https://www.crowdpolicy.com/visa-innovation-program-smartcities/

About the Visa Innovation Program
The Visa Innovation Program is a fintech pilot-centered collaboration platform designed to help your startup scale, supercharge the value proposition and engage with Visa, its clients and partners. It's organized in partnership with Crowdpolicy (Greece), Eleven Ventures (Bulgaria), and Hackquarters (Turkey).
Started back in 2018, the Visa Innovation Program attracted more than 500 applicants from Europe, Middle East, Asia, US and LATAM. Over the last 4 years, 50 fintech companies have participated in the Program. They managed to raise collectively more than EUR 130m in funding and close 45 PoCs (proof of concepts), pilots and commercial deals as part of the Program.
Original Post: https://medium.com/the-crowdpolicy-collection-en/visa-innovation-program-webinar-series-into-the-challenges-2d5a4e03ee01