The European Year of Skills Festival, May 9, 2023
Having a workforce with the skills that are in demand contributes to sustainable growth, leads to more innovation and improves companies' competitiveness. Skilled workers enjoy better job opportunities as well as broader possibilities to fully engage in society. This is key to ensure that the economic recovery as well as the green and digital transitions are socially fair and just.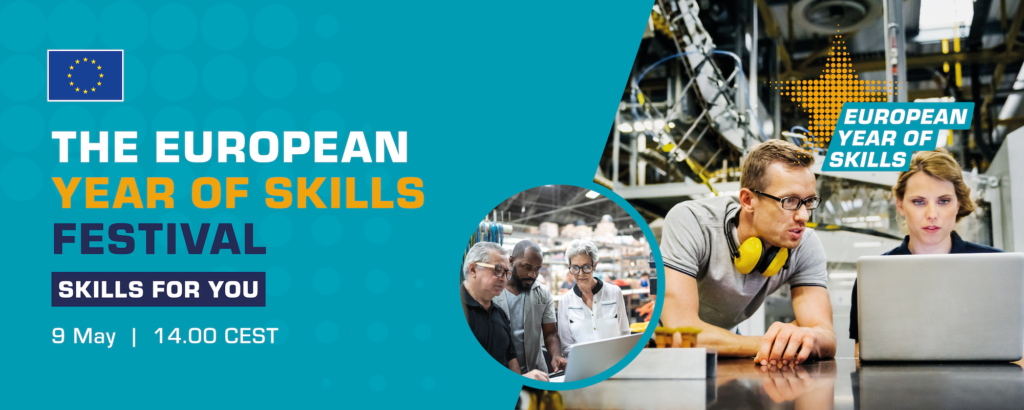 The European Year of Skills will help companies address skills shortages in the EU. The Year will also contribute to the discussion on what is needed to equip EU workers and companies with the skills they need to reach their full potential.
The European Year of Skills Festival will highlight the importance of skills to local, national and European stakeholders, but also media in different Member States. On May 9 throughout the one and half hour session you will be able to connect Brussels and to other events celebrating Europe Day and Skills across Europe.
The main aims of the European Year of Skills festival are to:
inspire stakeholders to invest in skills and the general public to think more about their skills;
make gaining new skills accessible to everyone, regardless of their current skill level – we want to reach all people!
Learning new skills is a lifelong journey and should not stop at school – this aspiration lies at the heart of the festival. Everyone should feel empowered to develop and learn new skills – skills that will be highly sought after as Europe transitions to a new and exciting green & digital economy.
The festival will also highlight how investing in the right skills is key to growing our economy. Through upskilling and reskilling, the doors to education, training and professional development opportunities can be thrown wide open.
The main event will be hosted at Cité des Métiers in Brussels and live-streamed for broader participation. This is a centre for information and advice on vocational training run by the Brussels Public Employment Service network, making it the perfect venue to host the Year of Skills festival. This will be a multi-site hybrid event, which will aim to accommodate and reach as many people as possible. This means that there will be a Headquarter event (Hub) that will connect with satellite events across Europe.
* Please note that physical attendance to the event is restricted and only the streamed event will be available to the general public.
The confirmation process is not mandatory to access the online event, but will ensure you receive notifications, updates and reminders.
Confirm your participation here
Original Post: https://www.europeanyearofskills-festival.com/en/index