PROMETHEUS supports the Social Hackathon Innovation Marathon in Greece, May 12-14, 2023
PROMETHEUS supports Social Hackathon – the third open innovation activity of Lidl Hellas and A.C. Laskaridis Charitable Foundation  implemented by Crowdpolicy. Social Ηackathon is also under the auspices of the Greek Ministry of Development and Investments.
Social Hackathon is organised following two successful actions in the sustainability area and in particular, the SUP Free Hackathon and the Sustainability Hackathon.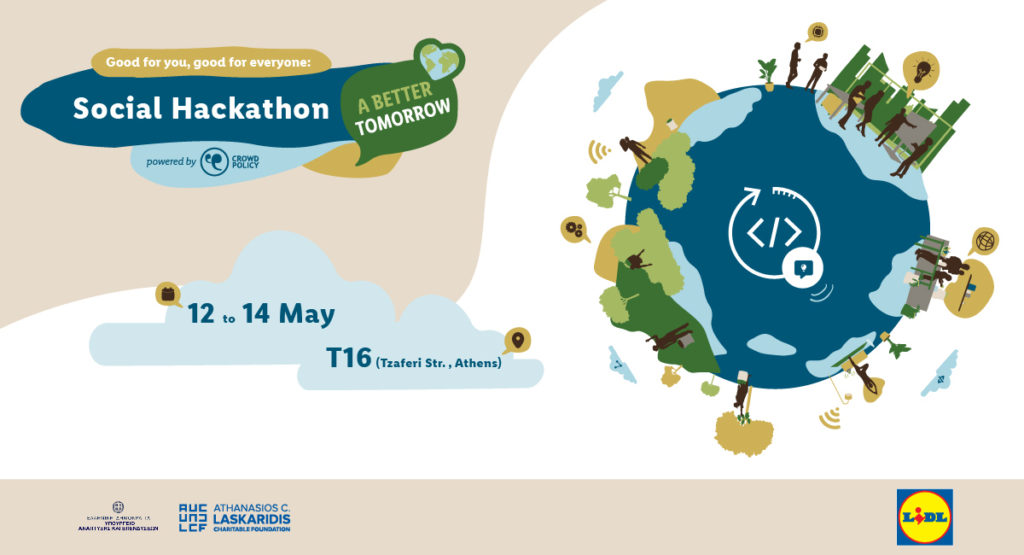 Social Hackathon aims at activating the innovation ecosystem, organisations and companies promote social innovation and entrepreneurship through innovative ideas and applications with social impact.
The Social Hackathon will take place on May 12-14, 2023 in a hybrid form:
Online Information day
An online information day will be held in Greek on April 27, 2023 and 17:00. During the open day, the Social Hackathon organising team will present the objectives, challenges and timeline of the innovation marathon. You can register for the Open Day here: https://socialhackathon.gr/openday/
Participate in Social Hackathon
If you feel that your idea matches the Social Hackathon Challenges and you are interested in developing it into an integrated application, you are invited to submit your idea and join us in this social innovation journey! Teams and solutions distinguished in the Social Hackathon will have the opportunity to enter a 5 month accelerator supported by experienced mentors for the development of their solution.
Also if you are interested in supporting the Social Hackathon don't hesitate to register as a mentor, sponsor or supporter (individual/ organisation/ collective entity).
Participate as a contestant: https://socialhackathon.gr/apply/
Participate as a supporter: https://socialhackathon.gr/supporters/
Submit an additional challenge/ problem: https://egov.crowdapps.net/participation-socialhackathon/
Social Hackathon Challenges
Social Hackathon challenges revolve around:
Social Innovation
Applications for the reinforcement and support of voluntary actions and participatory financing
Applications for the reuse of products and goods as well as re-manufacturing and repairing applications
Utilisation of technological tools for the access of vulnerable social groups to basic goods
Utilisation of digital tools to support ethical trading, fair trade actions
Creating smart educational program solutions for social sustainability within companies and public bodies
Applications of data visualisation and exploitation and open data for social and other indicators (e.g. rule of law, human rights, coke safety)
Application for promoting health and disease prevention
Utilisation of digital tools for the empowerment of vulnerable populations, empowerment and inclusion (eg Persons with Disabilities, refugees, women, low-income people, etc.)
Supporting local communities and economies
New business models of sustainable local entrepreneurship in the social sector
Applications to support alternative forms of (sustainable) tourism, agritourism
Digital health applications, telemedicine, emergency health transport (eg medicines etc.)
Digital applications for educating local populations on critical social issues
Health Protection
Digital tools for balancing work and personal life (mentoring, meditation etc)
Applications for the assessment of risks to the health and safety of workers
Applications for the prevention and treatment of occupational accidents, occupational diseases and other work-related health problems
Tools for more transparent product labeling to promote healthier choices
Engage in dialogue
Transparency, accountability (ESG), and anti-corruption tools – with a focus on social actions for agencies, organisations and businesses
Participatory governance, democracy, transparency and accountability applications for public and private sectors
Applications to enhance knowledge and networking of new social initiatives
Sustainability and Business Law
Applications supporting equal employment opportunities and equal treatment at work
Tools for implementing a uniform salary structure based on objective criteria such as professional experience, specialised knowledge and skills
Digital tools to support employees (digital training tools, digital cloud collaboration tools, digital communication and idea sharing tools)
Responsible Marketing and Social Product Labelling Applications
New business models of sustainable green jobs
Tools to support product certification standards
Tools to support certification of tacit knowledge and skills in the workplace
Strengthening Civil Society
Transparency and accountability tools on gender equality in the private and public sectors
Digital tools of the internal reporting mechanism for non-compliance with the Code of Conduct
More information: https://socialhackathon.gr/en/ and https://medium.com/the-crowdpolicy-collection/register-now-to-social-hackathon-fbb27e243d95