PROMETHEUS represented at HEInnovate webinar showcasing ongoing EIT HEI Capacity Building projects
This month's HEInnovate webinar will introduce some of the ongoing EIT HEI Capacity Building projects, their progress and lessons learnt so far. The webinar will take place on Thursday, the 26th May 2022 at 5pm CEST. Yannis Charalabidis, Professor of Digital Governance in the Department of Information and Communication Systems Engineering of the University of Aegean and Project Coordinator for PROMETHEUS, will give an account of the project, which is a collaborative initiative of HEIs, research centres and enterprises aiming to develop and share their innovation and entrepreneurship support capabilities in digital transformation related to sustainable development.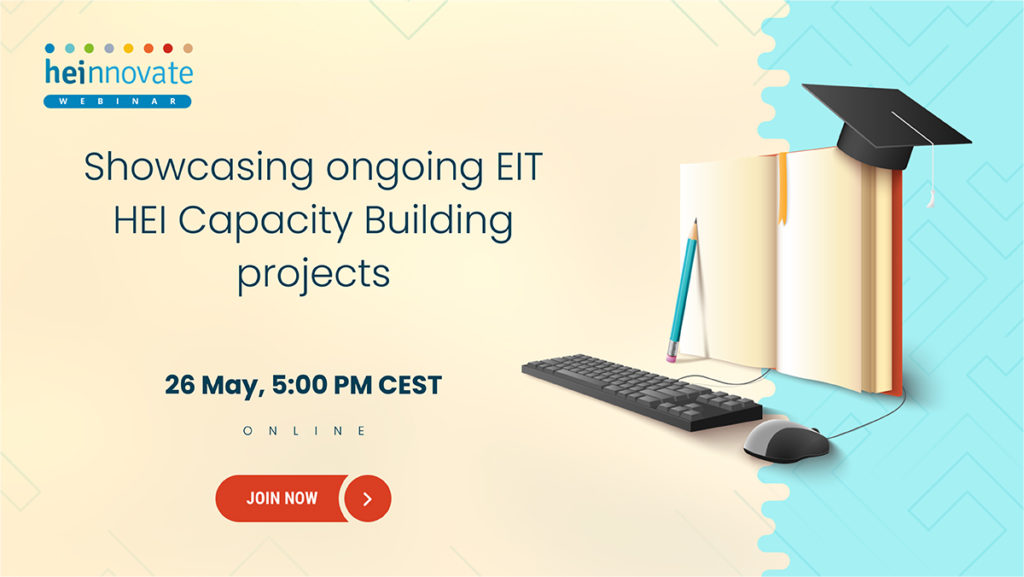 The webinar will be moderated by Rebecca Allinson and Zsuzsa Javorka from Technopolis Group, and it will engage four experts who will highlight their experiences with their projects:
Bedi Çelik is the Project Administrative Coordinator of the Energy Transition Entrepreneurs in Action project (ETEIA). All successful Entrepreneurial Universities have one thing in common: students' capacity to invent new things. A successful institution can transform those ideas into thriving businesses. The project aims to encourage students' activity in research during their graduate course, supported by the most successful professors and entrepreneurs as mentors, and followed by the start-up experience
Bárbara Gabriel is the Deputy-Dean for Internationalisation at the Department of Mechanical Engineering of the University of Aveiro. Barbara is a researcher in the field of innovation, entrepreneurial teaching and learning, engineering education and nanotechnology. She is member of the support team of the Rectory for pedagogical and curricula innovation and the coordinator of the Science and Engineering Education Group.
Pavlina Vujovic is the Head of Internationalisation at Strascheg Center for Entrepreneurship responsible for international programmes with focus on entrepreneurship, innovation, and co-creation. In 2013 she founded her own start-up in fashion and made an exist in 2016.
Barbara and Pavlina will talk about two funded projects: EUAcceL and Tandem+: that are focused on the acceleration of impact innovation in Europe. Furthermore, they will also provide an overview of a joint initiative between the two projects – Start for Future, which is an umbrella network and Open European entrepreneurship hub to foster systemic thinking with HEIs as drivers of this process.
In addition to gaining an overview of the main project activities and progress so far, we will also discuss with the speakers:
How have the projects dealt with the challenges during the application and the implementation process so far?
What are the most important learnings from consortium building and preparing the proposal?
How have they used HEInnovate during the application process? What worked well, what were the difficulties? Any suggestions for improvements?
How can one ensure sustainability of the results?
If you are interested in joining the webinar, please register at the following link that will take you to zoom: https://us02web.zoom.us/webinar/register/WN_F77FqyYSQDSRlFH6LtpAyg 
Original post: https://heinnovate.eu/en/events-webinars/heinnovate-webinar-showcasing-ongoing-eit-hei-capacity-building-projects