PROMETHEUS Project Workshop at the ItAIS & MCIS 2022 Congress, 15.10.2022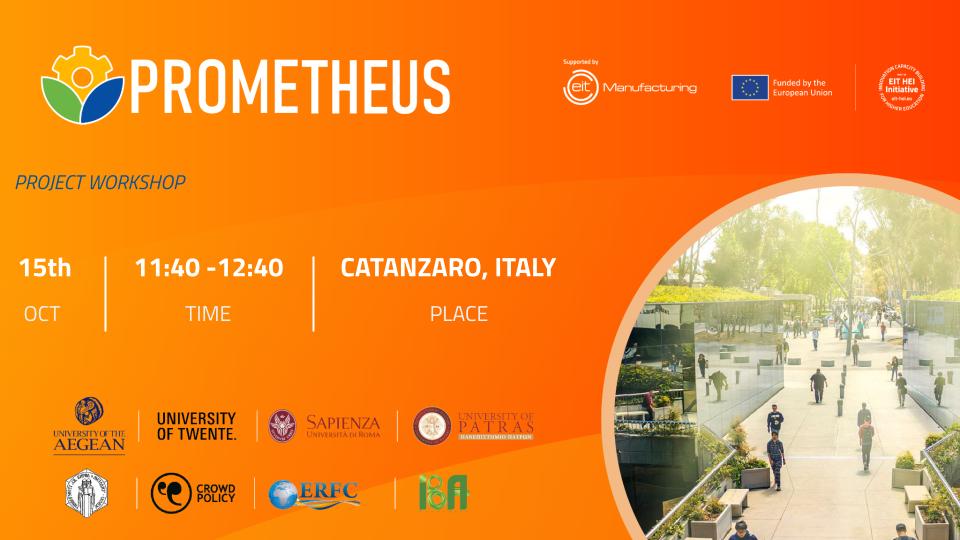 PROMETHEUS project is an initiative of Universities, Research Centres and Enterprises from Greece, the Netherlands, Italy, Romania and North Macedonia funded under the Higher Education Initiative of the European Institute of Technology. The aim of the project is to develop strategies and activities in order to foster innovation and entrepreneurship capabilities in the area of digital transformation related to the circular economy, climate change and sustainable development.
On October 15th, the project team will present the PROMETHEUS approach, the tools and the opportunities for collaboration at the ItAIS & MCIS 2022 Congress in Catanzaro, Italy.
Highlights:
•Presentation of the PROMETHEUS project – Yannis Charalabidis, University of the Aegean
•Presentation of the PROMETHEUS Tools – Francesco Bellini & Irina Gorelova, University La Sapienza
•Discussion on collaboration possibilities – All participants
Check the detailed agenda of the Congress here.
The participation link will be announced at the PROMETHEUS social media on the day of the workshop.