PROMETHEUS looking forward to a more sustainable future
PROMETHEUS team concludes a highly productive 2022, in which we have completed multiple trainings and visiting lectures, mentored startups, widened our network of associated partners, organized events and attended multiple third-party activities and exhibitions.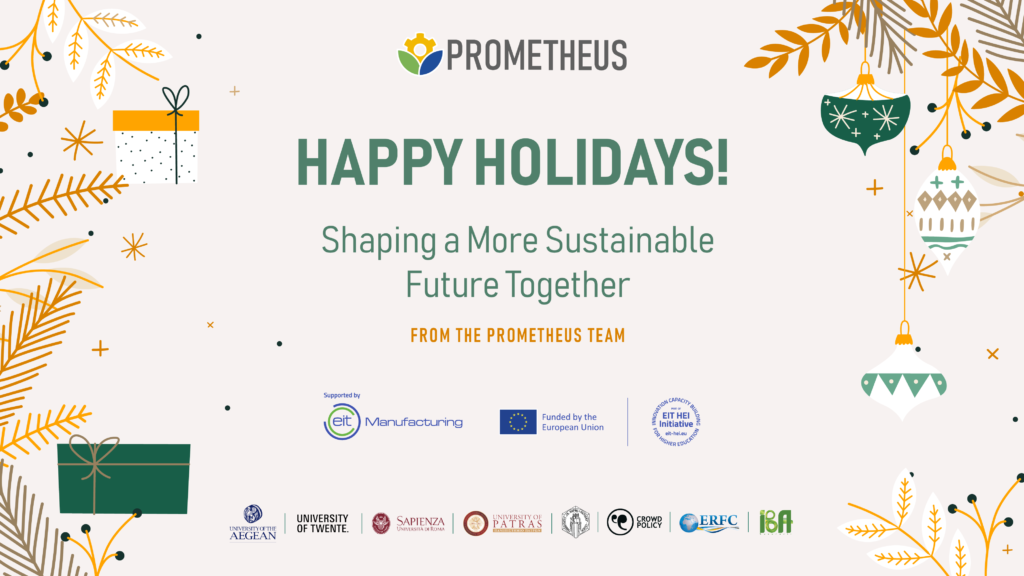 Through our collective effort, with the support of EIT's HEI Initiative and supporting communities, we managed to support innovation and entrepreneurship within Higher Education Institutes and their wider ecosystem through education, digital tools, news feed and outward activities.
2022 coincides with the completion of the PROMETHEUS International Startup Competition 2022 and the nomination of the 7 teams that matured more successfully with their business ideas! Since its launch in August 2021 the PROMETHEUS project has supported almost 2,500 students through training and other activities having also supported in parallel startups mentoring, academic and non-academic staff training and mentoring wider activities. During 2022, the PROMETHEUS Project achieved the further development of an extended Associated Partners Network numbering more than 75 Universities, Educational bodies, Public Bodies, NGOs, Industries and SMEs that actively support the PROMETHEUS project initiative. What is more, the PROMETHEUS project secured 25,000 € seed funding that will be distributed towards systematic assistance for startups in the long run. PROMETHEUS team participated in several invited lectures among universities and industry in the last year supporting the enhancement of collective learning both across EIT HEI projects and the wider knowledge and innovation community.
We have proudly accomplished moving beyond the design of systems into actualizing and launching tools, such as the Entrepreneurship Acceleration Platform, the Knowledge Base tool and the Support by PROMETHEUS tool. We are extremely excited about the next months of the project as a number of important tools and actions that we are developing at the moment will be ready to be disseminated to the wider innovation ecosystem! Moving forward to 2023, we will timely deliver all the remaining deliverables to further enhance innovation and entrepreneurship and work on improving – expanding the established outcomes of the project.
On behalf of the consortium and the wider PROMETHEUS Community, we wish you Happy Holidays and a more sustainable 2023!