Making public procurement work for SMEs: enhancing digital innovation and sustainability through tendering
FG Smart Communities and FG Sustainability joint meeting – Public ONLINE event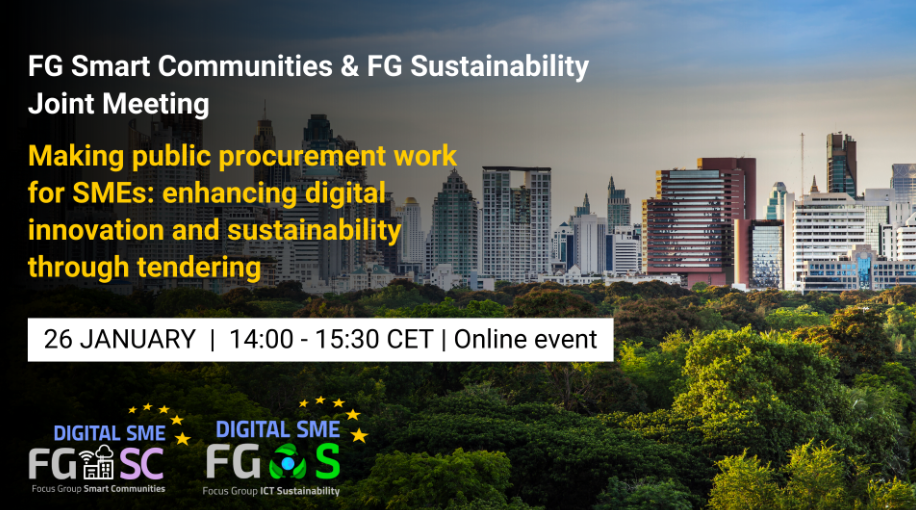 In 2019, public procurement accrued to about 12% of GDP on average in the EU (€ 774 billion) [1] whereas latest data from 2022 show that over  250 000 public authorities in the EU spend on average around 14% of GDP (around €2 trillion) per year on the purchase of services, works and supplies in sectors as energy, transport, waste management, social protection and the provision of health or education services.
More specifically, procurement of private sector developed GovTech [2] applications can help innovative companies, in particular SMEs, overcome a classic market failure, by finding initial customers for their products and services. In addition, purchasing innovative solutions allows public bodies on regional and local level a more efficient delivery of public services, lower energy consumption, lower life-cycle costs, and many other advantages arising from having solutions that meet exactly their needs [3].
Moreover, within a new economic and social context, public procurement can be a powerful and efficient tool to support the achievement of the green and digital transitions and a greater strategic autonomy. By using their purchasing power to choose environmentally friendly goods, services and works, Public Administrations can lead by example and make an important contribution to sustainable consumption and production. Through the EU Resilience and Recovery Facility instrument, the EU has made first steps into adding sustainability requirements to Public procurement procedures within the Resilience and Recovery Plans[4]). However, while being on the European Commission's Agenda[5], there are currently no EU-wide mandatory sustainability requirements for public procurement. Such harmonised GPP rules would support SMEs in accessing public procurement opportunities across Europe by providing their sustainable services and products.
This FGSC – FGS joint meeting will open the discussion on procurement and how it can work for innovative SMEs and start-ups, by raising awareness on the current rules regulating it and the future directions of public procurement as driver for digitalisation (GovTech) and the green transition (Green Public Procurement).
The discussion will continue in follow-ups closed meetings where companies will have the opportunity to shape recommendations for a public procurement that work for digital SMEs and get practical insights on technical specifications when it comes to supplying digital services and products, namely interoperability and standards in the context of smart cities.
See the agenda and register here: https://www.digitalsme.eu/events/fgsc-fgs-joint-meeting-on-public-procurement/
[1] The Digital Single Market and the digitalisation of the public sector", 2022
[2] GovTech ecosystems refer to networks of citizens, public and private actors (including SMEs and startups), academia, and (venture) capital involved in the development of technological solutions to address public challenges – (The Digital Single Market and the digitalisation of the public sector, 2022)
[3] Attempts have been made to identify the value of the so called "GovTech" market in the EU, but only estimates are available at the moment. Estimates of the EU GovTech private sector market range from € 22 billion (a 2018 estimate by Accenture and Public) to € 116 billion (a 2021 estimate by Public), The Digital Single Market and the digitalisation of the public sector, 2022.
[4] Compliance of Do Not Harm Principle and alignment with EU Taxonomy (Technical guidance on the application of "do no significant harm" under the Recovery and Resilience Facility Regulation), 2021.
[5] The Commission announced in its 2020 Circular Economy Action Plan that "the Commission will propose minimum mandatory green public procurement (GPP) criteria and targets in sectoral legislation and phase in compulsory reporting to monitor the uptake of Green Public Procurement (GPP) without creating unjustified administrative burden for public buyers. "(A new Circular Economy Action Plan, 2020)
Original Post: https://www.digitalsme.eu/events/fgsc-fgs-joint-meeting-on-public-procurement/