INNOVEIT Athens – Digital production & artificial intelligence for sustainability
Taking place in Athens, Greece, high-level stakeholders from the European Commission, the Greek Government, the EIT Governing Board, EIT Manufacturing CEO and Supervisory Board together with experts will discuss how digital production and modern AI solutions can help European industry become more efficient and sustainable!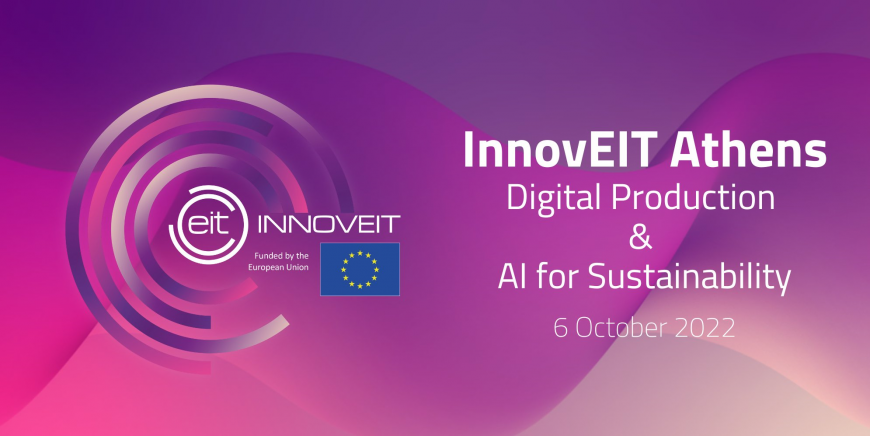 EIT Manufacturing will bring together the key stakeholders of the biggest European Innovation Community to discuss how artificial intelligence (AI) and digital production together strengthen the competitiveness and improve the sustainability of the manufacturing sector in Europe. The event will offer insights from key stakeholders coming from the European Commission and national authorities, as well as from innovative ventures, innovators, and start-ups.
Some of the key questions that will be answered in the sessions will be:
What are the implications for the human workforce when companies implement AI?
How do data spaces and data quality affect the implementation of AI?
Which ethical questions need to be addressed when AI shall be implemented?
Which skill gaps does the European industry face in digital production and AI?
This event will be followed by the inauguration of the most recent innovation hub in the EIT Manufacturing ecosystem, the Athens-based EIT Manufacturing Co-Location Center South-East.
All this and a lot more will be the subject of discussion on 6 October!
Register here to participate: in-person / online
INNOVEIT Athens is part of the INNOVEIT WEEKS event series, the flagship event of the European Institute of Innovation and Technology (EIT). Discover how the EIT, as Europe's largest innovation ecosystem is harnessing the power of innovation to address the urgent and critical challenges we face. Join us in one of our 10 events in 10 locations across Europe! For more information please visit: innoveit.eu
Original post: https://eit.europa.eu/news-events/events/innoveit-athens-digital-production-artificial-intelligence-sustainability