EKDDA Gov 5.0 Hackathon for the National Center for Public Administration and Local Government in Greece
Crowdpolicy is implementing the EKDDA Gov 5.0 Hackathon (Innovation Marathon), an open innovation technological action aimed at activating the innovation ecosystem, organizations and companies, as well as local government executives to promote the digitalization of Administration and Local Government as well as the National Center for Public Administration and Local Government (EKDDA), through new and innovative ideas and applications with social impact.
The EKDDA Gov 5.0 Hackathon will be held both remotely and with physical presence on 22nd-23th January 2022.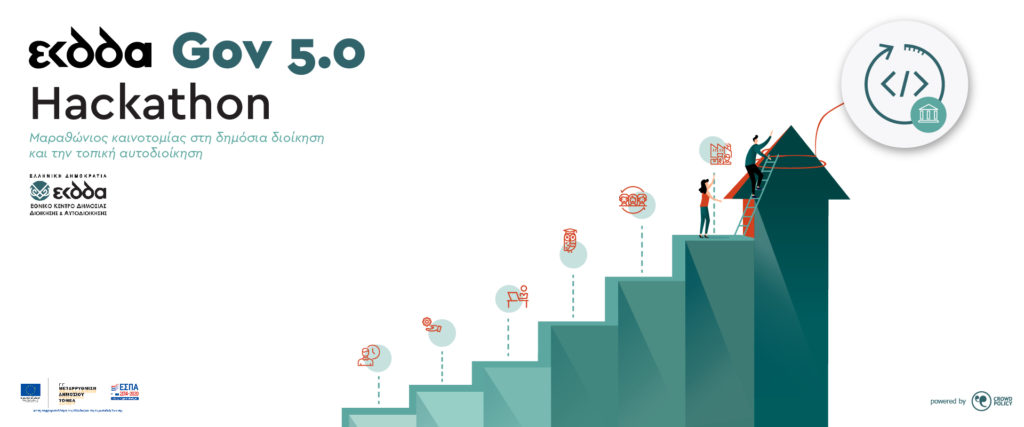 EKDDA Gov 5.0 Hackathon Challenges resolve around:
Local government and utilization of Open Data
Reducing waiting times for access to the service
Maximizing the satisfaction of citizens' needs. Aim with one visit to complete the request
Enhancing the efficiency of administrative services, reducing bureaucratic constraints and handling more cases per unit of time
Optimal human resource management through education and lifelong learning. The best recording and evaluation of the work of the services if it will be possible to apply quantitative and qualitative indicators
The improvement of the working conditions of the staff of the Municipalities, since the applications that will be created will allow them to perform their duties with greater completeness and a smaller number of required actions
Innovative Ideas for the Digital Transformation of E.K.D.D.A.
Development of mobile apps for ESDDA students and INEP trainees
Candidate evaluation tool for inclusion in the Register of Main Teaching Staff
Tool for selecting candidates for training of Public Administration executives, for participation in training programs
Matching the scientific profile of trainers with educational needs
Utilization of machine learning for counseling professional career of graduates of ESDDA (the right stem in the right place)
Data creation tool as a prerequisite for creating & utilizing big data analytics and artificial intelligence
Maturity and development monitoring tool for training activities
Apply Now: https://crowdhackathon.com/ekdda-hackathon/apply/
Learn more: https://crowdhackathon.com/ekdda-hackathon/en/