Found.ation and EIT Digital, have released the 6th Startups in Greece report
Found.ation and EIT Digital, have released the Startups in Greece report for the 6th consecutive year. This report is supported by the Hellenic Development Investment Bank (HDBI) and sponsored by Pfizer, Dialectica, egg – enter • grow • go and Seedblink.

The report reflects on the Greek startup ecosystem, providing valuable insights of the Greek startup scene and its development over the years.
It is a curated study of the Greek startup ecosystem that is being published for the sixth consecutive year, providing a valuable scope
in the Greek entrepreneurial scene and its development over the years. Found.ation and EIT Digital continue to draw the profile of the startups and identify the market trends focusing especially on the investment opportunities available in the country and most of all, their impact. This year, for the first time, a focus is given on the profiling of the Greek startup founders across the globe, as well as the respective angel investors that have appeared in the past years.
In this year's edition, the report gathers data and covers the landscape of the Greek Venture Capital scene, providing key information and insight into the impact of the fund-of-funds EquiFund programme in numbers since the scheme has come to an end. HDBI's new initiatives for both startup founders and angel investors are also outlined and presented alongside with new incentives that will be implemented in the following years. The report also takes a closer look at the data concerning startups in the wider Balkan region, providing a view on the startup and venture financing ecosystem of the neighbouring countries. In addition, the report lists the 10 most funded Greek startups and the top 10 exits of all time.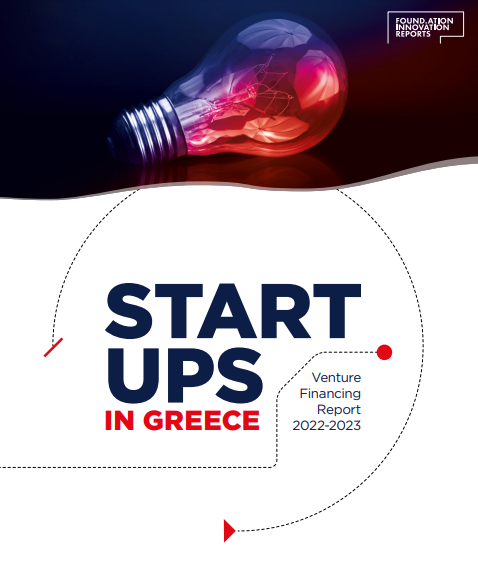 In total, the report:
Features the top 10 most funded startups and exits in Greece over the last year and of all time as well as the top 10 Greek startups with the highest valuation.
Presents the financing landscape, the independently managed funds and the startups that received the investments
Takes a closer look at the characteristics of Greek startups founders, Greek angel investors and investors who take part in rounds via crowdfunding platforms, drawing noteworthy conclusions.
Includes opinion articles from investors and stakeholders.
Documents accelerators, incubators, hackathons and coworking spaces
A key takeaway of the report is the existence of a very obvious and profound funding gap that affects mostly the preseed market segment.
Download the report here: https://thefoundation.gr/wp-content/uploads/2022/12/Foundation-Startups-in-Greece-report-2022-2023.pdf
Original Post: https://thefoundation.gr/innovation-platform/our-publications/startups-in-greece/?utm_source=newsletter&utm_medium=email&utm_campaign=Innovation+As+Usual+%2310+(resend)