European INCrowd Replication Event in Athens, 8.2.2023
The European INCrowd project in collaboration with the European Crowdfunding Network and with the support of Crowdpolicy organise the physical event – "Replication Event", on Wednesday 8 February at 9:30-15:30 at Innovathens (Technopolis, City of Athens, Building 2, Pireos 100, Gazi, 11854 Athens).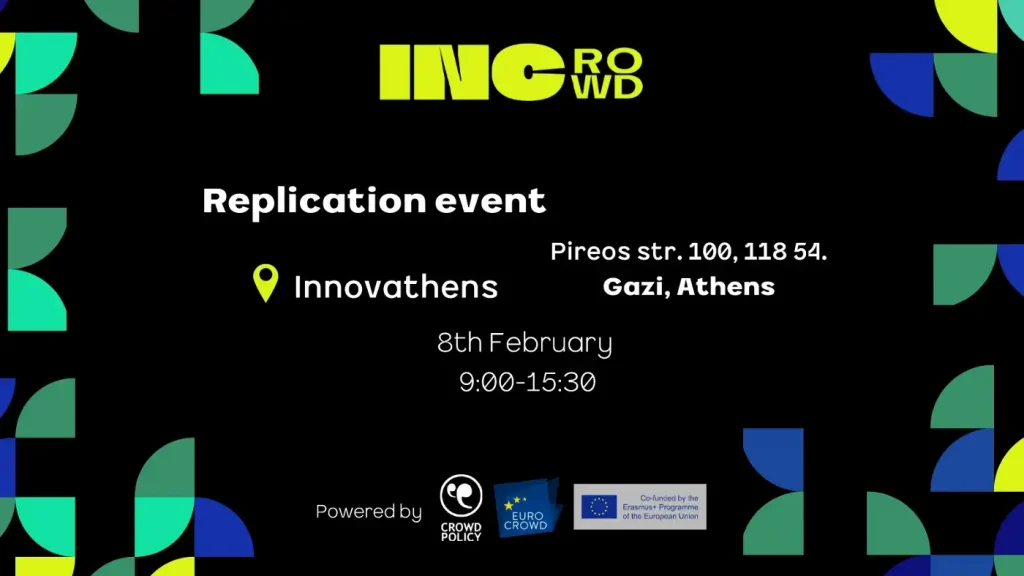 The aim of the event is to disseminate the activities of the project as well as to maximise its scope and impact. The event is aimed at members of organisations or public authorities who work or support the implementation of educational programmes among other activities.
Participants will have the opportunity to learn more about the subject of crowdfunding as well as the opportunities highlighted in this field by good practices.
Register here: https://crowdpolicy.com/incrowd
The INCrowd project sees crowdfunding as an innovative tool that can be helpful for young people that are "NEET" (Neither in Employment nor in Education or Training). By expanding their knowledge in this field, they aim to build their capacities and entrepreneurial skills and, hopefully, support a new generation of change-makers in our society. During the event participants will get the chance to know other youth-focused organisations, learn more about the programme and hear about the next steps.
Agenda:
09:00–09:30 Welcome — Ice breaking games
09:30–10:30 Introduction to crowdfunding and local platform
10:30–11:30 Crowdfunding as a tool to foster social economy entrepreneurship
11:30–12:00 Coffee Break
12:00–12:20 Overview of INCrowd project
12:20–13:00 Implementation of training in Pilot Countries
13:00–13:30 Best practices of crowdfunding campaigns
13:30–14:30 Lunch Break
14:30–15:30 Workshop: Roadmaps to implement

Original post: https://medium.com/the-crowdpolicy-collection/replication-event-incrowd-614406242da7