Entrepreneurship Skills training for catalyzing SDGs – Catalyzing Change Week 2023
Catalysing Change Week (CCW) is the world's largest event led by social innovators and entrepreneurs to share knowledge, exchange ideas and accelerate collaborative systems change during more than 200 sessions and activities in a dedicated annual week.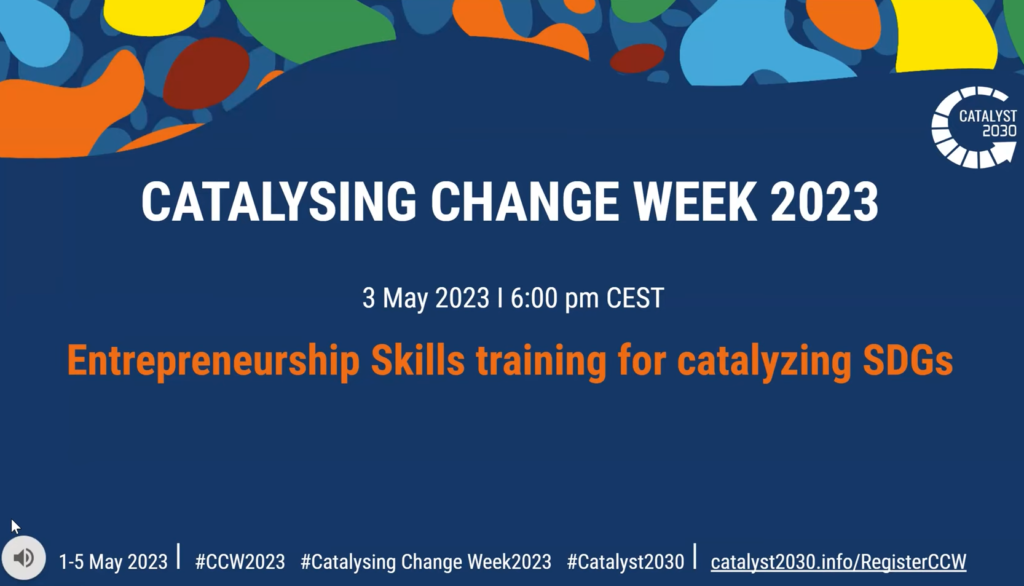 Organised by Catalyst 2030, Catalysing Change Week 2023 built on the success of CCW2022, bringing together social entrepreneurs, representatives from the private sector, governments, funders and others involved in systems change, to inspire change in support of achieving the SDGs.
The models of best practice shared during the week exemplified the ethos of community-led systems change, underpinning the proposal to Promote a Social and Solidarity Economy for Sustainable Development recently adopted by the UN General Assembly. The week served as an opportunity to engage, advocate and activate collaborations across the entire social innovation ecosystem.
Panel on Entrepreneurship Skills training for catalyzing SDGs
According to the Social Progress Index (SPI), the SDGs will not be achieved until 2082. The COVID-19 pandemic has likely delayed SDG achievement by a further ten years. Catalyst 2030 members have identified three key challenges that are stalling progress:
1. Many global, regional and local institutions and governments do not have the means to address the complexity of societal problems at scale.
2. There is minimal coordination among social entrepreneurs and other social innovators who have the capability and freedom to influence system actors and build their capacities.
3. The pace of adoption of financial and funding models to advance systems change has not accelerated to match demand. The system in which we operate is one with severely unequal power dynamics and outdated practices.
In the face of global fragility, social inequality and (youth) unemployment, entrepreneurship could be key for sustainable socioeconomic empowerment. However, this is difficult to achieve without education that employs the proper methods, tools and objectives and equally targets all society segments. Entrepreneurship has the potential to reduce poverty, stimulate economic growth and boost innovation, in addition to enhancing social and environmental sustainability. In accordance with the human capital theory and previous empirical studies, it is assumed that entrepreneurship education and training (EET) directly correlate with positive entrepreneurial outcomes and therefore sustainable development.
Panel on Entrepreneurship Skills Training for Catalysing SDGs
On May 3, 2023 a panel on Entrepreneurship Skills Training for Catalysing SDGs was organised as part of the Catalyzing Change Week 2023. Speakers discussed key opportunities for entrepreneurship actions on enabling sustainable socioeconomic empowerment.
Moderator:
Andreas Stefanidis, President of the Academy of Entrepreneurship & Educational Association of Athens HFAISTOS
Speakers:
Petros Kokkalis, MEP The Left group in the European Parliament-GUE/NGL in his presentation titled "The skills we need to fight inequalities and climate collapse" discussed how business as usual is no longer acceptable towards the implementation of SDGs and reflected on the importance of corporate social responsibility.
Elin McCalum, Leading Bantani Education – all about #entrepreneurial #lifeskills for #socialimpact in her presentation titled "Europe Top 100 Women in Social Enterprise 2021" provided good practices for entrepreneurhip focusing on the Entrecomp Community.
Elena Romanini, Senior EU Project Manager, trainer, supervisor at T-HAP LTD, in her presentation titled "Economy of wellbeing and SDGs: the role of entrepreneurial skills for people and communities" discussed how entrepreneurship is relevant for the wellbeing of people and communities.
Presentations were followed by an interesting discussion on opportunities for further innovative initiatives for enhancing entrepreneurship.
The panel discussion is available here:  https://catalyst2030.net/events/entrepreneurship-skills-training-for-catalyzing-sdgs/
Explore more discussions from the Catalysing Change Week 2023:  https://catalyst2030.net/ccw-events/
Original Post: https://www.entrepubl.eu/entrepubl-project-represented-in-catalyzing-change-week-2023/