EIT launches new Global Outreach website
The European Institute of Innovation and Technology (EIT) has launched a new website dedicated to the EIT Global Outreach Programme – showcasing its unique EIT Innovation model beyond Europe and boosting the competitiveness of European innovations.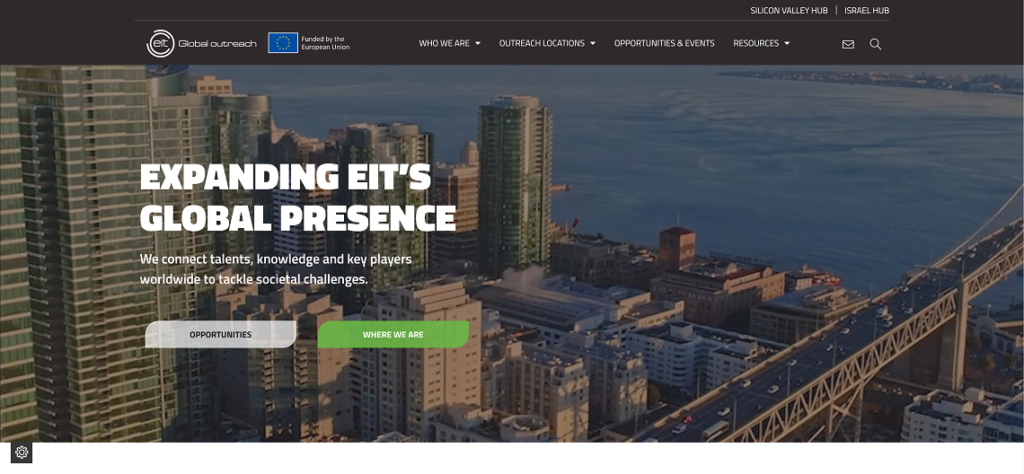 INNOVATION BEYOND EUROPE: EIT GLOBAL OUTREACH
The European Institute of Innovation and Technology (EIT) is Europe's innovation engine, on a mission to create a healthier, greener and more digital Europe. By harnessing the power of innovation, the EIT helps to directly respond to some of the greatest global challenges of our time.
Over the past decade, the EIT has established eight Knowledge and Innovation Communities (KICs), unique partnerships that connect more than 2900 partners, carving out Europe's largest innovation ecosystem, connecting leading businesses, higher education and research organisations to turn Europe's best ideas into cutting-edge products and services.

In 2018, acknowledging the importance of international cooperation in tackling global challenges, the EIT together with its innovation communities established the EIT Global Outreach programme. Contributing to the EU's Global Approach in Research & Innovation, it is the first EIT Community coordinated effort at global level.
The EIT Global Outreach programme acts as a bridge linking the EIT's innovation ecosystem with those of outreach locations, forging synergies with global innovation leaders. Currently two EIT Hubs exist under the Global Outreach programme, one in Silicon Valley, USA and the other in Tel Aviv, Israel.
The EIT Global outreach programme draws on the strength of the already established EIT model, built on the principle/foundation of knowledge triangle integration, bringing together research, academia, and business to spur innovation, increasing European competitiveness, while creating jobs and sustainable growth.
By positioning the EIT's innovation model at an international level, the EIT Community is able to offer tailor-made support to facilitate the internationalisation efforts of European entrepreneurs and innovators. In addition, with this programme, the EIT brings together knowledge and resources from across its innovation ecosystem to create a platform to share best practices and expertise from the selected outreach locations to tackle the most pressing global challenges and contribute to the UN Sustainable Development Goals.
Stay tuned for updates on the new EIT Global Outreach website as the programme expands with more locations. Or get involved now with the EIT Global Outreach activities, including the Disrupt Me innovation immersion programme that is currently accepting applicants, or other upcoming opportunities and events.For more information, visit the website (https://go-eit.eu/) and sign up for the Global Outreach newsletter.
Original post: https://www.climate-kic.org/news/eit-launches-new-global-outreach-website/?utm_source=LinkedIn&utm_medium=Post&utm_campaign=Global_Outreach