EIT Digital Master School graduates offer solution to prevent food waste
Waliyah Sahqani helped develop the GRAPE shopping app to guide shoppers towards an affordable and sustainable use of produce.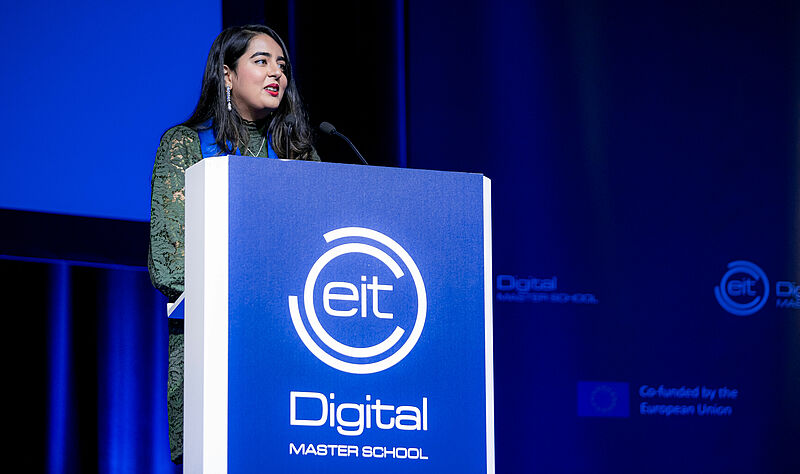 Sahqani and her fellow graduates from the EIT Digital Master Programme kept user needs in mind while creating and improving GRAPE, an app designed to prevent food waste. The team sought user feedback about different prototypes and adjusted the solution accordingly, perfecting the app to the point where it took second place in the EIT Awards Change category. They have now turned GRAPE into a start-up. 
Sahqani learned both the app design and the entrepreneurship skills she needed to succeed from the EIT Digital Human Computer Interaction and Design programme at Aalto University in Finland and Trento in Italy.
"I'm originally from Pakistan, but I wanted to go abroad for university. I was interested in designing and I knew the reputation of Aalto University for design. In the entire course, the goal was 'what are you making and for whom?' It was that way of thinking that sort of switched my mind and made me think I should be working in user-centred design. Experience helps you know where you need to change things, to make adjustments. When you have so many different ideas that you've experimented with, tried and tested, you build a bit of an instinct of what will work or not work, or how the market will react to your product and what investors may be looking for." Waliyah Sahqani explained.
Thanks to their training with EIT Digital, Sahqani and her colleagues started with plenty of hands-on experience in coming up with commercially viable innovations.
Helping society
Along with developing innovations that people want, Sahqani said she and the rest of the GRAPE team share a desire to come up with innovations that address urgent societal needs. According to Sahqani, projects that they worked on were all very much focus-driven, addressing social impact or climate impact. All of them have that same passion. And they all learned to build a start-up in the same ecosystem as well from studying together. It works well when you all have the same basis.
GRAPE helps battle hunger and the negative impact on the environment caused by food waste by enabling consumers to make more sustainable decisions. Users put together their shopping list in the app, and they tick off items as they buy them. The app saves the shopper's purchased items in their digital pantry, remembers how long ago each product was purchased, and can track what they have already used. The app makes it easy for consumers to know what they have in their pantry and when it will expire, keeping the most perishable items visible so they know not to waste that food – and not to double-buy food they already have. But that's not the only way the app will help.
"We want to go a couple of steps further and leverage grocery shopping data to provide users with insights and advice on sustainable consumption, and by these means empower them to make sustainable consumption and purchase choices," according to a written description from GRAPE.
From hackathon to the Venture Programme
The idea was first born at a "hack-the-app" contest, involving some of Sahqani's colleagues who were then working on their EIT Digital master's thesis. The planned shopping necessitated by the COVID lockdown made it clear that we waste food, but the team felt their first proposed solution needed work.
After the hackathon, Sahqani and others joined their effort. They surveyed people they knew about food waste and shopping habits and received 300 responses that helped them shape their platform. Further adjustment and polling followed.
"We had already done some research. We had ideas flowing, and then we saw the EIT Digital Venture Programme application. The EIT Digital support and coaching has proven vital to the development of the start-up. It was good being able to get a prototype or minimum viable product that you can test and adjust. That was an area where the EIT Digital Venture Programme provided insight in terms of knowing our market and knowing how to build a product that fits that market." Waliyah Sahqani explained. 
The idea they came up with won second-place in the "Change" category of the2022 EIT Awards.
Growing GRAPE
Now the GRAPE team is preparing an official launch of a Polish-language version. The next step is commercialisation.
"In terms of building revenue from it, we want to link to e-commerce. People are moving towards buying groceries online, and if people are making their shopping list within the application, then they could click to make purchases. So after we launch publicly and get a good base of users, then we can sort of test and experiment with e-commerce integration" Waliyah Sahqani analyzed.
Sahqani now has full-time work as a UX and service designer at F-Secure, a cybersecurity company in Finland. The work combines her interest in user design with her master's thesis topic of data privacy and transparency in tech. Her fellow founders – Kacper Skawinski, Ferran Montraveta Roca, and Javier Benitez from EIT Digital and University of Manchester alumna Maria Maciągowska – also found jobs.
But growing GRAPE is important to Sahqani, who described the start-up as a passion project for the whole team. It was important for her personally to use her user-centred skills to help fight waste. "It fulfils this need that I have to make things that are meaningful and that have some sort of purpose," she explained.
Do you have a business idea and want to turn your innovative digital technology into an MVP and start your venture? Then check out the EIT Digital Venture Program!
The application period for 2023 will open shortly.
Original Post: https://eit.europa.eu/news-events/news/eit-digital-master-school-graduates-offer-solution-prevent-food-waste