EIT Digital Deep-Tech Venture Showcase event | December 14, 2022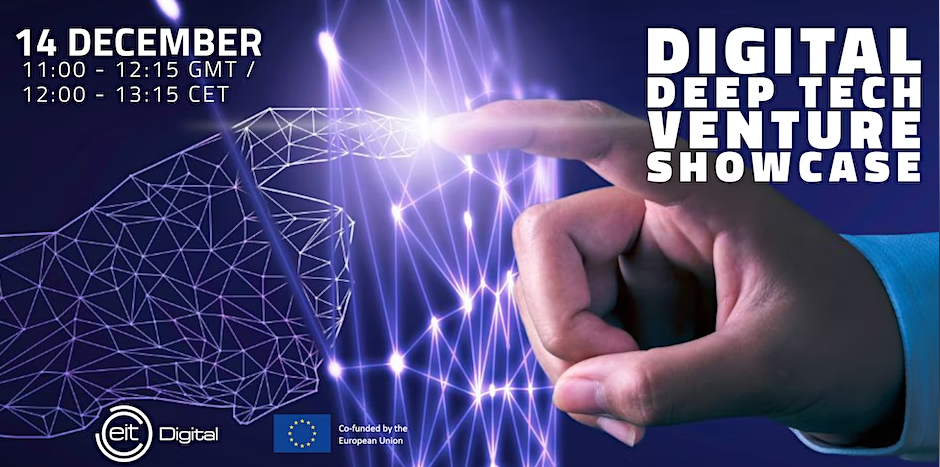 EIT Digital is the leading added-value platform for the creation and growth of digital deep tech ventures across the UK and Europe.
ΕΙΤ Digital will be hosting an online event to showcase a pick of six standout ventures from its international portfolio within a fast-paced online event of 75 minutes' duration at 11:00 GMT / 12:00 CET on Wednesday, 14 December.
Each venture has defensible technology, is achieving strong sales growth, exploiting big global opportunities and can demonstrate good capital efficiency. All are highly investable and seeking to raise at Late Seed or Series-A level in 2023.
The Ventures who will be showcased are:
AIDEM (UK / Digital Industry)
Connecting Food (France / Digital Industry)
HyperCRC (UK / Digital Industry)
Joiicare (Ireland / Digital Wellbeing)
LMAD SAS (France / Digital Cities )
Scantrust (Switzerland / Digital Industry)
The event is aimed at startups and scale-ups in the UK and Europe seeking to be part of a major international ecosystem, private investment firms focused on high-grade opportunities and corporate innovation specialists and CVC executives seeking to identify and deploy proven digital deep tech solutions.
The event will also provide an expert independent perspective from EIT Digital on fundraising successfully while investment markets are more volatile.
Original post and registration information:
https://www.eventbrite.co.uk/e/eit-digital-digital-deep-tech-venture-showcase-tickets-464362519797?aff=MarketingEmail&utm_campaign=West%20%7C%20Innovation%20Day&utm_medium=email&_hsmi=235283128&_hsenc=p2ANqtz-94xcosXQpGES7Z0XSKy6ttI_Caw_fXeKILFf01fYRSlsHV7CUbb5MCshfSr4hrfhvEb5AZq9RZ6FbDJ9AObkqs9M3waA&utm_content=235283128&utm_source=hs_email